Short on time? Pin this picture to find your way back to read this article later.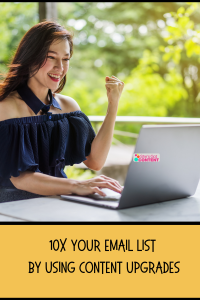 If you've only got one lead magnet on your website, you're missing out on one of the biggest opportunities to grow your list. What would it be like for your subscriber sign-up rate to increase 10 fold, just by using a little bit of extra content?
Well, that's easily possible when you start using content upgrades. Content upgrades are an amazingly simple way to 10x your email list growth in a more targeted and efficient way.
Content Upgrades Help Grow And Segment Your List.
Use content upgrades to not only help you build a bigger list, but also build a more targeted list of subscribers. You can segment your list in a way so as to identify who will answer your future calls to action for specific topics in greater numbers. Imagine how this allows you to help more people with your products and services. It also helps your bottom line.
It doesn't matter what type of business or niche you have. If you have an online presence and use content to market your business, you can use content upgrades to grow and segment your audience.
What's A Content Upgrade?
To make sure you're clear about the concept of a content upgrade, let's set our definition. Content upgrades are bonus related content offered to a reader for a specific page, post, article, or other content when that content is being read. The bonus material is provided as a download requiring an email address in exchange for this related content.
Why Content Upgrades Work.
The reason this strategy works so well is simple. A content upgrade is offered to a reader who is presently reading and enjoying specific content you've published about a particular topic. Offering this reader more on that topic at the point it's read makes a huge difference in opt-in rates.
This reader is someone who's already self-selected as being someone interested in this topic. They're more likely to want to go further with their knowledge on the subject and exchange their email address for more details on that topic while they're reading something about the topic.
Content Upgrades Are Relatively Simple To Create.
Offering a content upgrade is actually quite simple. Take a look at your most popular published content. Then create more information that helps solve your reader's problem around that topic. It's essentially another way to deliver an incredibly targeted lead magnet.
Formats that work for content upgrades.
You can deliver content upgrades in any format you would deliver any other type of lead magnet. The key with content upgrades is to have the material take the reader closer to solving the problem that drew them in to read your original piece of content. Here are just 5 examples.
A Guide
Did your blog post talk about how you accomplished something that the reader also wants to accomplish? Everyone likes to learn how to do things with specific instructions and checklists so they don't miss a critical step. Set up a guide with step-by-step instructions. Keep it short but with enough detail that they can implement most of what is on the guide alone or in conjunction with your products and services.
Infographic
Do you have a lot of data in your blog post or report? Turn it into a beautiful infographic that you can offer as a content upgrade. Alternatively, you can turn that around, post the infographic, and offer the report as the content upgrade. You can easily create infographics using free software templates in Canva.
Resource Lists
Bonus with this list–you have an opportunity to share affiliate links for your most recommended resources. Most people want to know what you do, how you do it, and what you do it with. This is a terrific opportunity to offer your resource list as a content upgrade giving them an inside view of your technology and resources.
Short Report
A short report has an advantage over an eBook, although an eBook works as a content upgrade, too. A short report is more quickly read and therefore quicker to implement in the mind of the reader. It usually focuses on fewer points with less detail than an eBook.
Templates
Everyone loves templates! Templates allow your reader to complete something quickly without starting from scratch. This is a great content upgrade because it makes it easy for your audience to implement.
These are just a few examples where you can get started creating content upgrades to entice your audience to sign up for your email list. Content upgrades target readers of your current content and then tempt them with more and better content in exchange for an email address just like all other lead magnets, the difference is mainly the placement.
Occasionally, a piece of content you post on your blog is so special to your readers that they will actually opt-in gladly to receive a prepared pdf of the same content. Keep this in mind. It doesn't have to be a huge project to create a content upgrade.
Strategically Place The Content Upgrade Offer
You can present content upgrades to your readers in numerous ways and in many places. Give your reader many opportunities to grab your content upgrade. You can put them in multiple places within one body of content. Be careful, though. You don't want your article or blog post to look cluttered. You want to present your content upgrade as a natural invitation for the next step for your reader. Here are some ideas.
Within the Content
Using links or buttons within a blog post is one way to deliver content upgrades to your audience. You don't necessarily have to point it out when it's within the content on top of keyword text. But, it is more effective to point it out. You can even point out in the text that you've got a content upgrade somewhere on the page so readers can keep that in mind as they continue to read your article. 
For example, don't miss the content upgrade button at the bottom of this post. You'll want to get your hands on the free Content Upgrade Workbook I've created to help you dig into this strategy for your audience, too! This resource has even more ideas for different formats for your content upgrades than the 5 types listed in the previous section above.
At the Bottom of Posts
Below every single post you publish is a great place to put a call-out box with the content upgrade. This is a great place to put it because if a person reads the entire article they're interested in this information and an excellent candidate to opt-in for the offer.
With Pop-Ups
Many people claim to dislike pop-ups but the truth is, statistically they do work. It does depend on your audience. You can make pop-ups less intrusive by having them slide down from the bottom or come up over on the side or only appear if the reader points to it. But, make no mistakes pop-ups done right do work.
In the Middle of Content
If you have a long blog post, an excellent way to display and present a content upgrade is a call-out box/button between paragraphs a few times throughout the piece.
Not Just the Blog
Content upgrades don't have to only appear on your blog. You can put them on any page of your website. A terrific location is your About Me page. Give some information but ask for an email address to get the rest of the story in the form of a report or white paper.
Don't think you're limited to one content upgrade throughout your entire website. You can have multiple content upgrades.
One easy way to get started with this is by creating one content upgrade for each blog category. You'll use the content upgrade for all or most posts that are created in that category. Just be sure it's relevant material for the next step for the reader.
Conclusion
Are you ready to create your first (or next) content upgrade? According to statistics, you can increase your opt-in rate by over 700 percent by implementing content upgrades.*
Start by analyzing content or topic that's already working for you. Decide on a topic for your content upgrade and what format you'll use so it's most easily consumed by your readers. Position your content upgrade on the appropriate blog posts or bodies of content.
After you whet their appetite with your free content, your readers can now opt-in to your email list and dive deeper into your content upgrade to learn even more from you. Be sure to send relevant nurture sequence emails to this segment in your list.
The key to everything is to get started. Take your time to understand what you've learned about content upgrades. Then implement content upgrades and you'll be reaping the rewards quickly. The right people will show up in your now healthier list, with higher open rates, higher click-through rates, and you'll enjoy an improved bottom line.
Your Turn
I'm curious. Have you used content upgrades? What have been your results with this strategy? If you've never heard of this technique before, what are your thoughts about giving it a try? Let me know in the comments below.