Short on time but want to read this article later? Pin this picture so you can find your way back!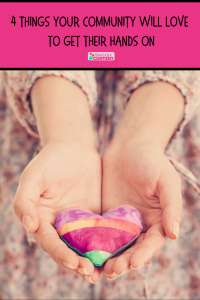 Let's get physical with your content. Your community–your followers, clients, potential clients–will love to get their hands on your content. Not figuratively. They'll love to get their hands on your content when you turn it into a physical product.
If you're thinking only in terms of digital content, you're missing out on a huge opportunity to get your message–your content–into the hands of your community members. Physical products are the new way for you to spread your message and keep you top of mind with your audience. And good news, they're money-makers, too.
Books
Books are the most well-known type of content that can be experienced physically. You might already have a book for sale or one in the works. Here are just five ways you can grow your business by having a physical, hold-in-your-hand book.
Profit From Book Sales
These days, it's the rare person who gets rich from writing a book. That should not dissuade you from writing your book, though. Having a different money mindset about writing a book works for many authors. View the profits from your book sales as money you can reinvest into your business to fuel even more growth.
By increasing your profits with a book, you'll have increased funds to outsource more tasks. You can hire someone to do the mundane things that tie up your time and take your time away from doing your best zone of genius work. Leveraging your time and talents this way alone makes writing a book well worth the time and effort to get it written and into the hands of your followers.
Gain Prestige And Followers
Speaking of your followers, a physical book gives you a certain status symbol within your community. This prestige helps you grow that community also.
When you have a physical book to hold in your hands and display, you're now in an elite group known as a 'Published Author.' Even if you self-publish your book, you'll gain a great deal of respect within the coaching and business community simply from having a book available in the marketplace.
This respect leads to new social media followers, email subscribers, and paying clients who need the services you provide. It all started with an idea in your head. And now, you've birthed that idea into something that you and your followers can physically hold in your hands. Imagine that–your expertise–your words–are now literally in the hands of anyone!
The Domino Expertise Effect 
The fact that you've written a book on a subject makes you an expert in the field as far as most people are concerned. But the value of doing so goes deeper than that. There's a domino effect that's set in motion when you undertake and complete writing a book.
In the process of researching and writing your book, you've expanded your knowledge and become an expert in your field. You've put in the time doing research to understanding the topic completely and from all angles. You then translate it so the information is easier to understand. You break it down into digestible bits you share with your readers in an organized manner. That will draw more people to you as a coach and to your book as avid readers look to improve their lives.
Increased Opportunities for Visibility
Visibility comes in many forms. When you write a book, you get even more exposure on multiple fronts. In addition to a wide range of recognition from the book itself, you have the opportunity to tell your story to an even wider audience through:
Book launch parties
Interviews and podcast appearances
Speaking engagements
Book signings
Library visits
These are just the beginning. You'll find being a published author with a physical book will open even more doors to increase your visibility further. Joint ventures and speaker summits are two that come to mind.
Leverage Your Knowledge
One on one services is a time-consuming process that only allows you to work with so many people in a day. A book is something that allows you to help more people with your limited time. It allows you to leverage your knowledge in a way that you can help far more people in a shorter time than you could ever do with one on one service.
Card Decks
Custom-built card decks are the latest way to get a physical product into the hands of your followers. You can easily create custom card decks on your own and have them printed on demand. They are an excellent companion to a book if you've already written one. They can be useful to inspire, educate, and engage your community members.
To get an idea about the concept of card decks, you can check out my Card Deck Shop and look at the deck I created to help my community come up with ideas for content creation.
If you're curious whether a custom card deck would benefit your type of business, check out these ideas from my friend, Rosie Battista. Rosie taught the course I took to learn how to turn my content into card decks.
Journals
Printed journals, workbooks, and planners are another category for a physical product that your community wants to get their hands on. This concept takes the 'low-content' category to an entirely new level. Learn how to create one of these journals this way here..
Think of designing a stunning hold-in-your-hand journal that helps your client walk through a series of questions designed to create a transformation that changes her life. These print-on-demand journals can be beautifully designed and customized with your ideas, your message, your own signature methods to create change. They also make a perfect companion to the book you've written or plan to write.
When you have all three of these physical products, you can also create a special kit combining your book, card deck, and journal all packaged together. People love having all the pieces together to help them achieve transformation more quickly and comprehensively.
Close your eyes. Imagine for a minute your happy client reading through the book you've written, writing in her companion journal that follows along with your book, and perhaps even pulling a card from the card deck for daily inspiration. What a lovely vision!
Board Games
If you really want to stand out with a unique physical product, create your own board game! The ideas for a board game will depend on your niche and your audience.
Imagine how fun it will be for your community to throw the dice and move around the game board you've created to help them with transformation. You can teach and inspire all along the board depending on which square the contestant lands.
Experiment with building your own board game using a blank board kit available on Amazon. Once you perfect your design, you can teach a workshop so your clients can duplicate their own blank kit to truly customize your idea. Then teach them exactly how the game is played and what's the benefit to those who play.
If it would fit your niche better to use an 'opoly' type of game, there are also blank kits to create this type of board game as well.
Summary and Your Turn
Now you know how to get physical with your content. Your clients will be able to get physical, too, when they have your physical products in their hands.
Books are the best-known example of physical products that are created from your content. Don't forget about the impact a deck of cards will have. Journals are great companions to your book. Add a fun board game and you've got a complete suite of products your community will love to get their hands on.
Which physical product caught your eye and beckons you to create it for your community? Let me know in the comments below.