Email marketing is not dead, although if you listen to some online gurus, they would have you believe otherwise. Emails remain one of the best ways to authentically connect with your audience, educate and engage with them, and share what you have to sell.
I rounded up some of the best content from my favorite copywriters to share not only their wisdom but examples of their personality and style in their copywriting, too! Let's dive right in:
Best Comprehensive Info Post–Literally Everything You Need To Know
Let's start with Laura Belgray and her blog over at Talking Shrimp.
Laura's article, "Screw Bitcoin! Cash in on email instead. (21 ways to do it better!) is one comprehensive encyclopedia for all things y'all need to know about email marketing and selling with your emails.  And it's delivered with a tasty side order of sass and vinegar, as only Laura can: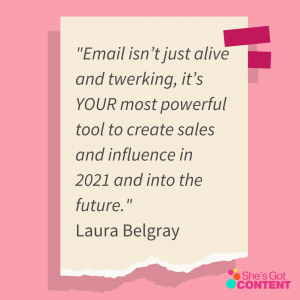 Laura is the real deal. She's got the chops to prove this sh*t works with statements like these:
"A handful of emails, or sometimes just one single email to my list, has:

Brought in affiliate commissions of over $100,000$150,000 $200,000 for one (highly competitive) program launch

Driven scores of people over to my blog posts to like, share and comment (when they now barely get a peep over on Facebook)

Sold out a high-ticket workshop in Italy – three four times
Sold out my high-ticket group program, Shrimp Club, twice three times (without a single sales call)
Brought in over $1M in a year in sales (between Shrimp Club, the Hero series, and affiliate promotions), allowing me to make my first million in a year at the spring-chicken age of 50! #latebloomersunite
Brought in over $11k from a single $49 product – without any ads or pre-promotion. Just one email. "
I recommend you sign up for one of Laura's freebies on her website and then study her welcome sequence–the emails you'll receive after the first one. With results like hers, you'll want to model the methods she uses, believe me!
---
Make Money With That List
The whole end game of your email list is to market to this group of self-selected people who want to hear what you've got. Let me introduce you to Ash Ambirge from The Middle Finger Project. Ash is the most irreverent, witty, creative individual on the internet, I believe. And I readily devour everything she puts out there in her emails and blog–including buying her book, The Middle Finger Project: Trash Your Imposter Syndrome and Live the Unf*ckwithable Life You Deserve.
Ash published a post with over twenty ideas to get some cash flowing, mostly through accessing your magical mailing list. Even the title of the article speaks volumes about Ash's style:
29 Creative Ways You Can Find Some Extra Money on the Fly, In a Pinch, When You're Strapped and When You're All: SOS, Cash Flow Where'd You Go?!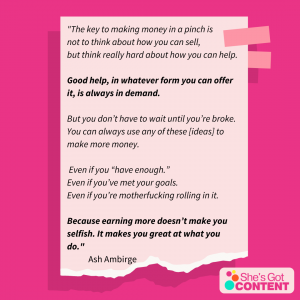 ---
Subject Lines
Kelsey Formost, Magic Words Copywriting, has a blog at KelseyFormost.com where she teaches copywriting for beginners. It stands to reason that if people aren't opening your email, nothing happens. The best way to get them to start opening your emails is to have an irresistible subject line. Kelsey's post will help you get started in that department. She breaks it down like this:
"Here's how to write subject lines that get people to click "open".

Include 2 out of these 3 things:

1. Self interest/Answer the q, "what's in it for me?"
2. News/ announcing an update to a product/service
3. Curiosity (a strange question that piques curiosity)"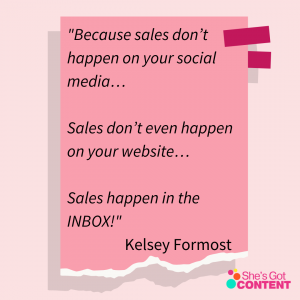 ---
Welcome Email Series
You definitely want to have a welcome, aka nurture, sequence of automatic emails that are dripped out to new audience members who sign up for one of your freebie offers.
What's that you say–you don't have one?? Then listen up! Get started on this pronto!
Why? Because having a welcome email sequence can mean the difference between someone staying on your list forever because they feel like you're BFFs who just haven't met in person yet vs having them scratch their heads asking Who Dis? the next time they get an email from you.
Brittany Berger blogs at BrittanyBerger.com. Brittany has written a great article with templates for you to use for a welcome email series. She also explains how to set up this type of automation — not just write it! Study her article and then start drafting your welcome series.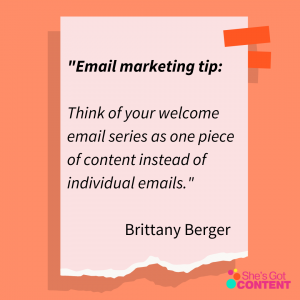 ---
The Power of a Newsletter Goes Both Ways
Stella Orange was the first copywriter I followed online and her Tuesday email newsletters were legendary. I have a folder filled with her weekly newsletters in my email inbox going back to 2014 when I first subscribed to her list. The impact of a consistent newsletter goes both ways as Stella writes in her post when she changed her business model and website and moved her newsletter over to a Thursday.
Be consistent with sending your newsletter. You're impacting people in ways you'll never know–it's the butterfly effect.
And it works in both directions. You'll be forever changed, too.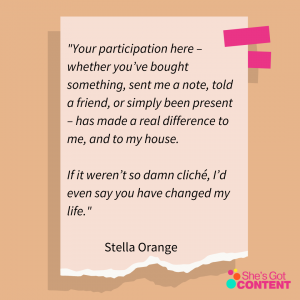 ---
If You've Ghosted Your List
Copywriter Elizabeth McKenzie from elizabethmckenzie.com.au tells it like it is if you're afraid to email your list because you've been absent for a while. Hey, it happens! Life gets in the way and we fall off the emailing wagon. If you've ghosted your list, then you're just gonna have to step out of the shadows and email. Read Elizabeth's email and follow her sage advice for getting back in the saddle again after an interim away–whether it was an intentional break or caused by chaos.
What led to the lapse doesn't matter. Starting up again and staying consistent is all that's important.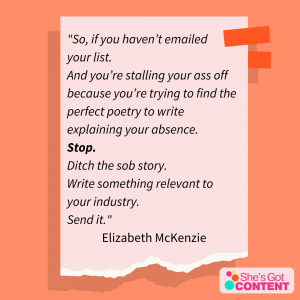 ---
Starring Storytelling Secrets
I adore Marisa Corcoran who has The Copy Chat Summit twice a year. Marisa's website is MarisaCorcoran.com where she blogs. I've learned so much about storytelling from Marisa, a trained actress who brings a whole different perspective to teaching copy as well as storytelling because of her acting background.
Marisa has an excellent example of her storytelling techniques in her blog post with a super clever idea for getting your blog posts read.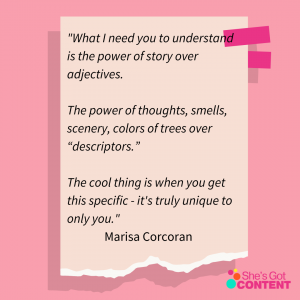 ---
Be a Fly On The Wall As Two Email Geniuses Chat
I discovered a twofer of email marketing geniuses when Kate Doster interviewed Liz Wilcox on Kate's podcast, Inbox Besties. Kate has all the notes for the interview over on her blog at katedoster.com.
Liz is a blogger turned copywriter. She oozes personality–actually both these ladies do in their writing and in this interview. They're genuine, informative, and entertaining!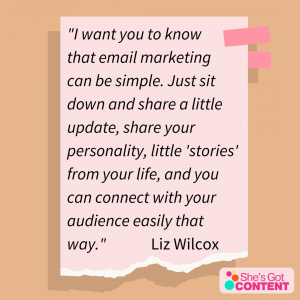 Topics discussed:  naturally including your personality, pop culture, knowing who you're talking to, and unapologetically loving money. Pay particular attention to the percent of people on Liz's list who bought during her very first course launch. Cray-cray numbers!
Kate is the creator of the Email Marketing Fairy and Inbox Besties podcast where she teaches all things email marketing. She has several helpful resources on her homepage at KateDoster.com.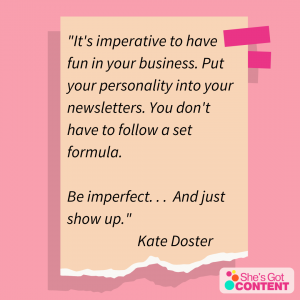 ---
The Future of Open Rates
Robert Allen from Kings of Conversion wrote an in-depth article about what the status of email open rates might look like going forward since Apple dropped the latest bombshell in June 2021 regarding mail privacy protection. Here's Robert's recap of the beginning of his article:
" So to recap what's coming, senders will no longer be able to see: 

Who's opening their emails
When people are opening their emails
Where their subscribers are located

And even 

what 

the true contact information of the subscribers is

"
Now above all else, don't panic!! Even if email open rates become a thing of the past, there are other metrics to follow and ways to engage with your email subscribers. In this article, Robert provides 6 steps to prepare for the end of open rates. Read and study this entire article and be prepared for what's coming!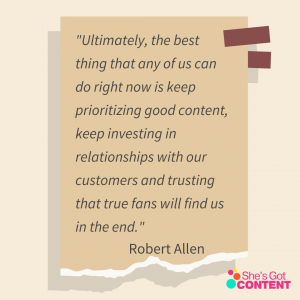 I suggest you get on Robert's email newsletter (this is one of the very few email newsletters I read EVERY day when I get it.) Robert will keep you informed about copywriting in general as well as the status of the open rate metrics as things shake out about this Apple update.
---
What were your biggest AHAs and takeaways from this roundup? How will you apply this information to your own email marketing plan? Let me know in the comments below. Would truly love to hear.