Personal Growth Book Reviews
I'm starting a new category called 'Personal Growth Book Reviews.' I love to read books in the personal growth and development genre. I've hosted in-person book clubs in the past to encourage others (and myself!) to read more non-fiction self-help books. I enjoy leading a group discussion around the teachings from the selection of the month.
My Secret When I Read Personal Growth Books
First, I'm going to let you in on one of my secrets about reading personal growth books. I learned this tip from the author-speaker, John C. Maxwell. When I read books in the personal growth non-fiction genre, I go 'old-school.' I only read this type of book if I can hold it in my hands. A real book. Physical, page-turning, paper-type books I can write on, dog-ear, mark up with a highlighter or sticky note. These are the books I keep on my bookshelf for future reference.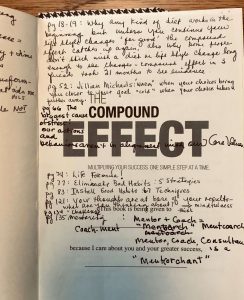 As I read the book, when I find a meaningful quote or concept I want to remember, I no longer just highlight it in the book where it's printed. On one of the flyleaf (blank) or nearly blank pages in the book, I also create a list where I mark down the page number alongside what I want to remember from that page. This makes it easy to open the book and find those passages when I want to recall them.
You can see an example from one of my books in the photo at the left.
This technique has come in handy for creating social media quote images, writing book reviews, and just refreshing my memory about what's inside a book. It saved me time writing this blog post, for instance.
I started this habit years ago and can't imagine reading a personal growth book without doing this now. Even when I re-read a book, I find new things to add to my page reminder list each time I read it. There are usually enough blank or semi-blank pages, that I've never run out of space for my notes!
Now that I've spilled my secret, let's take a look at one of my favorite books in the personal growth category.
The Compound Effect By Darren Hardy
One book I aim to re-read at the start of every new year is The Compound Effect by Darren Hardy. This book is packed with the most life-changing strategy I've ever read. Here are some of my golden nuggets from this book.
Who Is Darren Hardy?
Darren Hardy has been a leader in the personal development industry for decades. He is a product of the principles he writes about in this book. It's insightful to read about the lessons he learned from his father and mentors and how he's applied them to his life. This is not just 'do as I say'–Darren has actually walked the talk. 

The Compound Effect Summary
If I were to sum up this book's over-all lesson it would be this:
"What's simple to do is also simple not to do." Jim Rohn
Choices are at the root of every one of your results. Every decision, no matter how big or small, changes the trajectory of your life. Each choice to do or not to do something has a result, a consequence. That choice either brings you closer to your overall goal or it brings you further away from it. When you repeatedly make the same choices, the behavior that follows becomes a habit. You're no longer making a choice when habits have become established–they just happen. Look critically at your habits and make your own choices. Consciously. Not in a sleepwalking trance.
Every choice you make helps bring you closer to your goal or it takes you further from it. Make a conscious, smart choice every time.
Click To Tweet
Your life comes down to this formula from The Compound Effect:
YOU—> CHOICE  + BEHAVIOR + HABIT + COMPOUNDED = GOALS .
The Compound Effect: (decision) + (action) + (repeated action) + (time)  = (Your life)
More To Like About The Compound Effect.
The book has graphs and charts to help illustrate the principles taught. This makes everything easy and clear to understand. At the end of each chapter, there are summary action steps to put The Compound Effect to work for you so you can establish the best habits to get the results you want. The author has also included resource pages in the back of the book. These worksheets are also available with a secret website link inside the book, so you can download and print them out in full size. Some of these worksheets help you determine your core values, set goals, and track habits.
My Recommendation
Check out The Compound Effect by Darren Hardy. This book has become a guiding light to me from the lessons I learned here. I give myself a refresher in those lessons yearly. Choices are either bringing me closer to where I want to be or they're taking me further away. Each. Damn. Choice. I never want to forget that lesson. And I don't think you want to either.
Your Turn
Have you read this book? Let me know in the comments if you've read The Compound Effect. What were your golden nuggets from this book? If you've not yet read it, what in this review has piqued your interest to maybe add this book to your must-read list? And if you have suggestions for great personal growth books you would recommend reviewing next, please let me know in the comments below.
Short on time? Pin this picture to come back later and read.