A big excuse I hear from people struggling with their content creation is their belief that they're not good writers. Excuses sound like, "I never learned the grammar rules. I can't spell my way out of a paper bag. I don't know how to punctuate properly."
There is good news, though. These excuses are no longer valid when you use Grammarly to check all of those things for you whenever you create content.
Short on time and want to read this article later? Pin this image to remind you.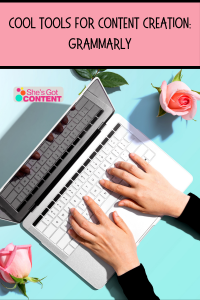 What is Grammarly?
Grammarly helps anyone who writes or edits content. It's perfect for entrepreneurs who write blog posts, emails, and web copy. Think of this cool tool as your personal writing assistant. It can check your spelling, grammar, word choices, and sentence structure. It can even make you a better writer!
Grammarly is a SaaS, software as a service. It's available as a Chrome browser extension which makes it available pretty much anywhere you're writing and editing text on your computer. It works in Google docs, Microsoft Word for Mac, and PC.
Grammarly Keyboard is the mobile app that originally launched with the iOS version only. In January 2021, Keyboard was launched in the Android operating system, as well.
Try out the free version of Grammarly to get started checking your spelling, grammar, and punctuation. Free Grammarly is robust enough for most entrepreneur's writing efforts. It picks up spelling and punctuation mistakes easily and helps with common grammar errors too.
There's also a premium version of Grammarly for those who want to kick up their writing results a few notches. Premium Grammarly gives you even more suggestions to improve your writing efforts by also highlighting sections where you can improve the ease of reading for your readers. This includes suggestions for word substitutions and sentence structure.
Once you sign up for an account and add the extension to your Chrome browser, Grammarly is working in the background to check your spelling, grammar, and punctuation. On your mobile, add the Keyboard app and follow the set-up instructions to tap into the magic of Grammarly to edit your writing on the go.
Why you want Grammarly.
I'm a big believer in the philosophy of 'done is better than perfect.' That means that I'm ok with an occasional typo or run-on sentence. I'm not ok with a piece of content being filled with errors that could have been corrected easily, though.
Grammarly easily catches my typos, misspelled words, and suggests ways that my writing can be more easily read. This software allows me to get my content done with much less time and stress involved. With little extra effort than checking to see what Grammarly suggests needs a tweak, the piece is ready for me to hit publish! This allows me to get more content out to my audience more quickly.
I used Free Grammarly for nearly a year before I upgraded to the premium version. The tools provided in the paid version are worth paying for since I write an extraordinary amount of content nearly every day. I feel like it's actually helped improve my writing and style, too.
My suggestion for you is to try out the free version before deciding if you need or want to upgrade. You may find the free version gives you all you require for your particular writing purposes, making it unnecessary to upgrade.
How to get Grammarly.
You can try out Grammarly for free by going to Grammarly.com. Follow the prompts to sign up for a free account. You'll then add the extension to the Chrome browser.
Once it's set up, you'll begin noticing that Grammarly will underline words in your text it thinks are misspelled. Hover your cursor over those highlights to see Grammarly's suggestions to replace them.
If you want to replace what you typed with what Grammarly suggested, click on the suggested word in the pop-up box where you hovered and the corrected spelling or added comma will now appear in your text.
If you don't agree with Grammarly's suggestion, when you're hovering, click the trashcan image in the pop-up box to dismiss this suggestion.
How Grammarly works–a visual.
Once you have Grammarly installed, you'll begin to notice underlined words or phrases within the text you write. These will have a solid underscore, whereas the usual spell-checker within the doc editor may still give you a dashed underscore to bring a word to your attention.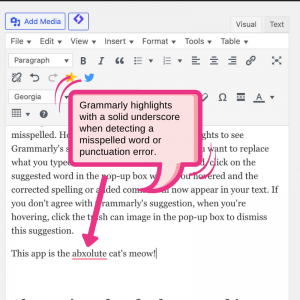 If you hover over that underscored word, a pop-up box appears.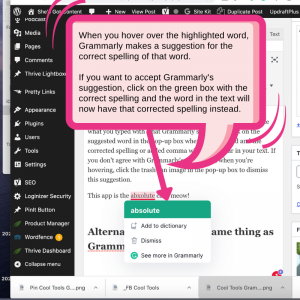 Inside the box that appears, Grammarly shows you what it thinks to be the correct spelling. If you decide to change it to the suggested correction, click on the green box and the text is automatically corrected.
There are a few other suggestions inside that box that are also optional. For instance, what if the suggestion to change the text is not what you want? You can choose the trash can icon and dismiss Grammarly's suggestion and it will stop suggesting that particular change in this document. See the image below.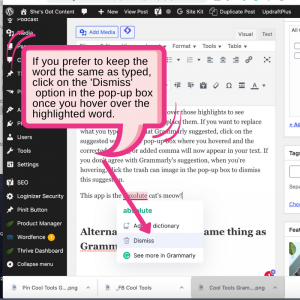 And if you use certain industry jargon, company names, or alternative spellings frequently, you have an option to add these alternatives to your Grammarly dictionary. This way, going forward, Grammarly will stop suggesting that word is misspelled. See the image below: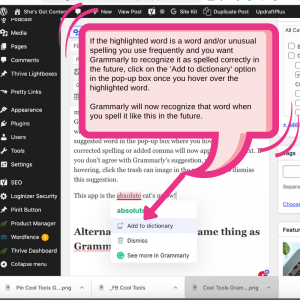 If you upgrade to the premium version of Grammarly, you will see more suggestions for improving your writing efforts. Grammarly's suggestions will help make your writing more concise, clear, and readable.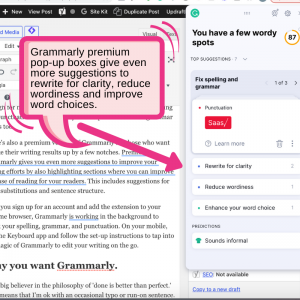 My Recommendation.
There are other software options that do similar spell-checking and grammar checking as Grammarly does. New tools are being released in this category every year that compete with this tool. Since finding and using Grammarly, I've been very satisfied with the results. This means I'm not actively looking for other tools to do the same thing.
I think your search for a great free spellcheck and grammar checking tool could easily end with Grammarly. I'd be interested to find out if you use something similar and what your results have been. Let me know in the comments below if you've got a great alternative that you love. I'll definitely check it out and maybe it will become a future post here.