Short on time and want to read later? Pin this picture so you can come back here later to read this article.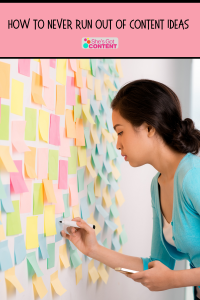 The blinking cursor on your blank computer screen has mocked you for the last time! Your days of staring at it, endlessly wondering what to write about for your next blog post or newsletter article, are now behind you. You're never going to run out of content ideas for your readers once you learn this secret to generating an endless supply of content.
Content Idea Brainstorm Sessions
The way to get lots of ideas down at one time to prime your pump is with a brainstorming session. You can do this brainstorming session quarterly if you need to re-prime the pump for more ideas or new topics of interest.
Set aside between 1-2 hours to complete all this research and brainstorming. Depending on the amount of time you're able to schedule for this session, you may have to break it into more than one session.
Make sure all distractions have been accounted for–dogs have had their potty breaks, someone else is in charge of the kids for this time. The phones are silenced and other notifications are turned off.
Set the ambiance however it works best for you. Silence or soothing music? Candles, incense, essential oils? Do take time to clear all the clutter away from the area you're working. The ideas will flow more easily.
The goal here in this step is quantity over quality. You want to get every idea written down. No need to edit, censor or overthink—just jot down ideas as they come to you through this brainstorming session. Suspend judgment on the ideas about whether they're good or bad. They're just ideas at this point.
Never lose another one of your great ideas.
Generating ideas is an ongoing process. You'll continue to add to your idea list whenever you have a spark for content creativity in the future.
A word of advice. Anytime in the future when you have an idea for content, write it down, record it on a voice app, or put it on a Trello board. That way, you'll be able to retrieve that idea later. Don't trust your memory, no matter how young you are. There is so much competing stimulation in your world day-to-day. Don't spend energy trying to store content ideas in your brain. There are more efficient ways to do that! 😉
Never lose another idea for content. Vow right now to get your ideas recorded immediately once they come to you in the future. Decide now how you'll capture those content ideas so you never lose another million-dollar idea. For me, I write all ideas on a Trello board. It's easy since there's a Trello app on my phone and laptop.
Start With A Brain Dump.
Set a timer for 10 minutes. During this highly focused 10 minutes, you're going to generate a list of all the topics that are interesting to your ideal client. Phrases, words, sentences, concepts–write down everything that emerges. Here are some prompts if you need them:
What does your ideal client want or need?
Write down each of their struggles/pain points/fears.
Make a list of problems encountered by your ideal client and your solution for each problem.
Once the timer goes off, move on to the next exercise.
Dive Into Google.
This time, set a timer for 30 minutes and look up topics in your niche using some keywords. Don't miss the bottom of the search results where it's noted, "People also ask . . ." as well as the section, "Searches related to [the thing you searched for]". This will help you go deeper into a topic by clicking on those suggestions and diving into them, too.
Write down all the topics, ideas, and headlines you find that look interesting for your audience. Again, this is not the time for judgment. You're going for volume of ideas here.
And don't worry if you're starting to get duplicate ideas using all these different content-generating ideas. You can sort that out later.
You won't necessarily use each one of your ideas from the brainstorming session. The more ideas you generate now though, the more directions you'll have to expand and develop these ideas into compelling content.
Study Your Past Content
Put 30 minutes on the timer for this section. Go back over your past blog posts and determine which ones resonated most with your readers. One way to do that is to look at the comments for each post. Read through those comments and see what was said about the topic, what questions were generated.
You can also use Google Analytics to see which posts have been the most popular. Which ones generated the most traffic and engagement? You can write more content about these topics or you can refresh and repurpose this material to create something new.
Add these popular posts/topics to your idea-brainstorming list. Or be sure to mark the posts for repurposing or refreshing and then schedule time into your calendar to do that.
Mine Your Social Media
This is another 30-minute session to explore social media pages and groups, either your own, your competition, or groups that you're in that also attract your ideal customer. You can use the search bar to pull up topics in a group or page. See how much discussion is generated around a particular topic. You can also use keywords in the search function like 'help' or 'frustrated' to pull up posts in groups.
Pay attention to the questions that are being asked inside groups where your ideal clients are. This will often give you a clue about where people are stuck or frustrated. Sometimes the same questions keep being asked in different ways. This indicates a great idea for content for you to help your ideal customer get unstuck with that challenge.
AnswerThePublic.com
AnswerThePublic.com is a visual keyword search/content ideas generator. Type in a keyword or phrase and it comes up with an amazingly long list of categories of ideas around that keyword or phrase. Check it out—it might even blow your mind! Give yourself 10 minutes on the clock for this site and then back out of there or you'll go down a rabbit burrow!
Even More Ideas
How did you do? Have you got a huge list of ideas, concepts, topics, and problems to solve that you can write about now?
You can find even more ideas for generating content ideas and getting everything organized for content creation in my self-study course, The Do-Able Content Creation Framework.
I'm curious which of the content-generating ideas turned out to be your favorite? Let me know in the comments below.