Has this ever happened to you? It's time to post another blog post, record a podcast episode, or go live with your video.
But there's a problem.
You're completely out of ideas. Your mind is blank and you have no idea what to write, talk about or demonstrate.
One Big Frustration For Content Marketers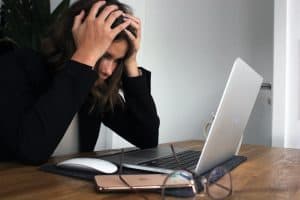 One of the biggest frustrations expressed by content marketers is the dreaded blank screen syndrome. This happens when it's that time to sit down and come up with content for the next publication date for your blog, podcast, or video recording. The deadline is looming–or maybe it's even overdue.
However, your mind is blank and you have no idea what to write as you sit looking at a blank screen. The only thing you see happening is a blinking cursor–mocking you–making you even more anxious while you wait for inspiration.
Your fingers sit on the keyboard, waiting for some divine message from the contents inside your head.
Yet your fingers remain still. Your mind won't engage and you're just not able to come up with any ideas worth typing.
Maybe you've been there, done that, and earned the trophy, too!
I certainly have!
And now, I have a solution for this blank screen challenge. I want to share with you what I've discovered that will prevent this scenario from happening again.
The System
I've put together a system to help you come up with endless content ideas. You'll first generate core content categories to write or talk about. Next is to brainstorm subtopics for each of those core categories. By taking one more step and applying a 'content multiplier' to each of your subtopics, you can literally come up with hundreds of great ideas for content titles. AND, these will all be great ideas that your 'right-fit' audience will love.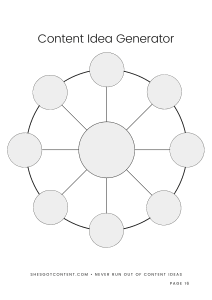 Even More Ideas
But that's not all! In this special report plus workbook, I've also included another section for even more idea generation. This includes some strategies I teach in my content creation courses. These additional ideas will help you generate a ton more ideas. You will literally NEVER again run out of content ideas once you go through all of these exercises.
Here's the Best News!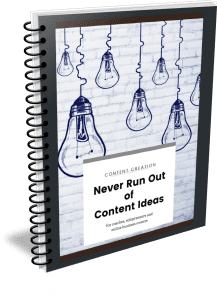 I'm making this information available FREE for my community. So pick up this special combo report/workbook with the content generator template along with the content multiplier now before I come to my senses.
Just click on the button below and the information will be delivered to your inbox as fast as the internet elves work their magic.
Once you've generated all the content ideas you'll ever need, come back here and leave a comment about your experience using it.
I can't wait to see all the fabulous information you'll be sharing with your audience for a long time to come!