The Challenge
One of the biggest challenges people have with content marketing is how to come up with a good headline.
For example, without having an attention-grabbing, scroll-stopping headline for your email subject line, your email is passed by and never opened. It doesn't matter how well the email is written or what's the story or the offer inside.
Without that email getting opened, nothing happens.
The same thing applies to your blog post title. If it's not compelling enough to click, the reader keeps scrolling and moves on. That article you wrote could be the exact answer the reader is looking for, but if the title/headline doesn't grab the reader and pull them in, they keep on looking elsewhere for their answers.
The Headline's Job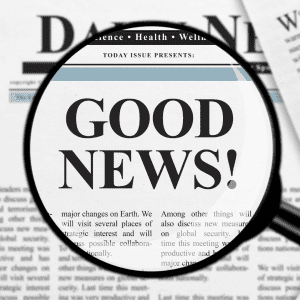 Your headline has to be inviting. It needs to make some type of promise for what the reader finds inside. It also needs to create instant curiosity.
Put all of these together and you can see the important job your headline needs to perform for you.
So how do you come up with a good hook as your headline so readers are curious enough to stop, click, and check out your content?
The Surprisingly Simple Tool
One of the easiest ways I've found to create compelling titles is to strategically use a very simple tool. This is one you're most likely already using multiple times per day–Google!
Google Some Magazine Cover Images
Specifically, you want to Google images of magazine covers to see the headlines printed on those covers. Publishers use headlines to grab the attention of the browsing customer. This leads the customer to pick up the magazine from the magazine rack. The reader is curious to read more.
How It Works
Once the reader is hooked on the headline, they want to buy the magazine. They're curious to finish that article–and see what other goodies are inside the magazine, too.
Headlines are often combined with eye-catching images to further attract attention–and get the sale. This is especially important for those magazines that rely on impulse buys for much of their sales.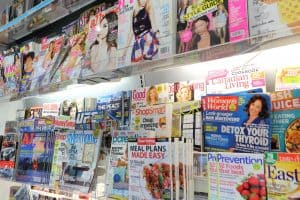 Think about the check-out line at the grocery store and how tempting it is to throw a magazine in with your groceries because you were curious about a headline you saw while you were waiting. You had no intention of buying a magazine when you went into the store. You were there for bread and milk. The magazine became an impulse buy. Thank (or blame!) that headline that pulled you in!
Cosmo Magazine
One of the best magazines to do this is Cosmopolitan magazine. Helen Gurley Brown was the editor for Cosmo for decades. As an excellent copywriter, she used her skills to entice readers to pick up the magazine through her use of magical wordsmithing. The headlines on the magazine cover would tap into the reader's emotions and pull them into the articles, leading to a purchase. Outrageous, suggestive headlines have been the norm for this magazine for years.
Borrow And Adapt The Styles
You can borrow some of the headline styles from Cosmo (or try other magazines, too) to create templates of your own. Start by using Google to find past Cosmopolitan magazine cover images. Zoom in so you can read the cover easily, and write down in a doc or notepad some of the headlines that appeal to you.
Once you've listed a bunch of different styles, save it somewhere that's easy to retrieve on your computer.  You can easily open up your template doc the next time you're stumped. Experiment with how to adapt and revise one or more of those headlines for your audience.
Examples
For instance, here are some titles I've discovered on a Cosmo cover:
Go Naked: 19 Ways To Feel Instant Pleasure
Fasting: The Ultimate (and Best) Diet–You Can Do It If You Try
27 Amazing Reasons It's Great To Be a Woman
You can rewrite these styles in this way:
Go Naked: 19 Ways To Feel Instant Pleasure becomes:
Go Naked: 7 New Whole Food Trends To Try (for a whole foods health coach)
Fasting: The Ultimate (and Best) Diet–You Can Do It If You Try becomes:
Zoom Networking: The Ultimate (and Best) Global Relationship Builder–Try It, You'll Like It  (for a business coach)
27 Amazing Reasons It's Great To Be a Woman becomes
27 Little-Known Ways You Can Grow Your Email List (for a marketing strategist)
Bonus Tools To Try
You can even consider popping your ideas into special software tools to further refine and tweak headlines. I've used Co-schedule's headline analyzer tool which is free and easy to use. So is this headline analyzer at IsItWp.com, a resource for WordPress websites.
Optinmonster has a similar tool that's free to use, also. You'll need to add your name and email address to use some of these tools, but you can always unsubscribe if you feel like you're receiving too much or not enough value from the resulting series of emails.
Your Turn
I'm curious. How do you come up with ideas for your headlines–email subject lines and blog titles? Share your tips with me in the comments below!