The biggest buzzword for success recently is the word 'leverage'. The definition of leverage is using something to maximum advantage. Often used with the words 'time' and 'money,' leverage can be applied to even more things–your business, your reputation, relationships. Creating VIP days is a very smart way to leverage your time and effort. You work smarter, not harder.
While this concept of VIP days is not really a 'secret' strategy, few coaches or service providers are maximally using them. Let's dive in and discover how you can use VIP Days to help you leverage your time and expertise while you increase your bottom line.
Bookmark this article to come back and read later. Pin this image.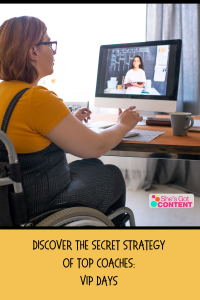 The Challenge
Most coaches and service providers trade hours for dollars. That leads to spending hour after hour on the phone, Zoom, or Skype with one client after another. Let's face it, that can be exhausting. Sure, you love working with different clients. Who isn't stoked by being able to help someone overcome challenges and achieve their goals?
But it's still taxing to be on the phone all day, every day. And add to that the need to constantly be looking for new clients, and you've got a recipe for burnout. After all, there are really only so many hours in a day or a week. So how can you begin to scale this type of business model?
VIP Days Are The Solution
That's why you might want to look at the strategy of offering VIP days. Simply put, a VIP day leverages your time and efforts focused on helping one person reach their goals faster.
A VIP day is scheduled as a whole day with you and a single client. Instead of multiple clients and different issues in one day, you can simply focus on a single goal for one client.
Don't Get Stuck On The Word 'Day'
Some people even create special half VIP days if the goal can be achieved within about 4 hours of work. Maybe a goal or project would actually take more than a day to complete. You could call it a VIP Intensive instead of VIP day. Carve out as much time as you comfortably need to get results with your offering.
You can leverage your time even more by combining 2-3 people into a group VIP day experience. This, of course, depends on the niche and the problem solved as well as privacy issues.
Potential Income
The best part, it's not unheard of for coaches to routinely charge as much as $10,000 for a VIP day. You can see that scheduling just 4 clients per month can bring in more than a whole week's worth of one-on-one calls. How cool would that be?
Why People Love VIP Days
You might be wondering why someone would want a VIP day. People pay for expediency and results. They love saving their time and getting results faster. Clients get to move on quicker from Point A to Point B. Many are willing to pay whatever it takes to get those results faster.
And don't sell yourself on the privilege of spending time with you. A chance to have you all to themselves to work on their project is something people would pay dearly for, too.
VIP Day Logistics
Where Is Everyone?
Here's how VIP days work: In the days before the COVID-19 pandemic, clients would travel to your location. You have lots of options to choose where to meet. Meet in your home, in a rented meeting space or private room in a restaurant, or a hotel. With the pandemic making travel impossible or at least not smart, hosting virtual VIP days has become the norm. You can easily use Zoom or a similar video conferencing platform to deliver a VIP day.
Single Goal
Your VIP day is tightly focused and has a single goal. You're going to have results by the end of your VIP day. This is built-in accountability–the secret sauce to reaching goals!
VIP Day Ideas
The ideas for VIP days are endless. Say your market is online business owners and you are a genius at book writing. Your VIP days might be designed to get a client to plan, outline, and begin writing her first book.
If you're a health coach, you can structure a virtual VIP day with a client to help strategize a weight loss goal. The VIP day includes meal planning, selecting recipes, and planning out strategies that will help set up the client for success. Maybe that includes how to prep their meals on the weekend. If you're doing that type of VIP Day in-person locally, there are other ideas you can add in. A health coach could include a trip to the grocery store to teach clients how to shop smart for all the items in their individualized meal plan. That could even be a bonus or optional add-on.
Highly Focused
Your VIP clients receive the benefit of your expertise with your undivided attention. No texting with the kids during a VIP day! They have a day spent with you simply focusing on their tasks to reach their goals. It's a powerful way to get things done.
Implement In Real-Time
Unlike conferences and other training programs, this strategy encourages clients to actually do the work on-site and complete it. How many times have you gone home from a conference with a notebook full of ideas and good intentions, never to implement a thing? That doesn't happen with a VIP day!
Beyond VIP Days–Next Steps
Follow Up Groups
VIP days also make for a great opportunity to upsell your client into an ongoing group coaching program. After all, she'll likely need support after she gets back home. Regular coaching sessions with other VIP clients help her get the support and accountability she needs to continue working towards her goals.
New Goal, New VIP Day
Sometimes one VIP Day can even lead to the desire for a subsequent VIP day. It could focus on the natural next step in the process. Let's take our health coach who is helping her client get started with meal planning and prepping to reach a weight loss goal. She may find once the client creates the healthy meal habit and hits her original weight loss goal, she wants to set new goals which necessitate VIP day #2. Maybe that's creating an exercise or strength training program now. Chances are, someone who got great results with one VIP day will be all in for a second one.
Get Started
Ready to offer your own VIP days? Start by asking your current clients if it's something they'd be interested in. Chances are they'll give you an enthusiastic thumbs-up. Then get busy putting together a plan to offer powerful, focused VIP coaching days for them.
Done In A Day Virtual Conference
If you'd like to learn even more about how you can leverage your time and energy into VIP days, Jordan Gill, from Systems Saved Me, creates the Done In A Day Virtual Conference twice a year. Jordan and her expert speakers share all the details you want to know about creating VIP days. The next Done In A Day Virtual Conference takes place March 8-9th, 2021 online. You can get your ticket and dive deeper into this strategy and transform your business and your life right away.