What if you could create more content in less time without doing all the writing yourself? Not just any old content. Compelling content that your audience loves just as much as the blog posts that take you days to write? Let's take a look at some of the ways you can get more content created in less time than you think. That means more time to do whatever your heart desires.
Short on time? Pin this image to come back later and read this article.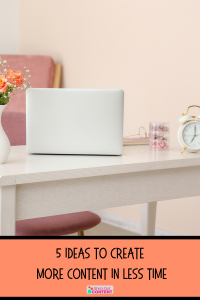 1. Collaborate With Others
Guest blogging
Guest blogging is a fantastic way to both generate content and get in front of a whole new audience. Other bloggers, marketers, coaches, and service providers are looking for ways to grow their audiences, and many of them would jump at the chance to appear as a guest on your blog. It's a win/win for both of you and your readers when you choose your guest bloggers carefully.
You could also expand on this concept by trading articles with other bloggers/business owners. They write a guest blog post and you write one for their site as a guest blogger for them. This second option is not a strategy for less writing, but it will definitely expand your audience and reach.
Text Interview
Have you heard about a text interview? Simply supply a list of questions to the person you're interviewing and post the responses. The interview format is perfect for introducing your audience to someone they might want to get to know better.
You could use the same interview questions and pose them to multiple people. Each interview becomes a new blog post when you copy and paste the answers. This gives your readers different perspectives and different personalities to learn from, too. And they have you to thank for these introductions. Don't forget to use your affiliate links in these type posts if you have them. 😉
Cross-Blog conversation
A cross-blog conversation requires a little more work on your part (and fingers on the keyboard) but it can be a fun way for your readers to get to know you a bit better. A cross-blog conversation is exactly what it sounds like: a discussion that takes place on two different blogs, with you and your blogging partner both offering opinions and information about a topic, just as if you were having a chat over coffee. Each new response in the conversation can become a new blog post with links to the previous conversations.
Kelly McCausey of Love People Make Money wrote a comprehensive blog post about how to do a Cross-Blog Conversation. Kelly shares some more tips about what makes for compelling questions for a cross-blog conversation. She also suggests you set a definite ending point to the conversation so there's closure.
2. Curate
Chances are, you share a variety of content on your social media accounts. Articles you've read, videos you've enjoyed, infographics that explain a complex idea in a simple way. It's part of what makes social media fun and informational.
But what if you took your sharing a step further, and posted your thoughts on your blog first, before linking on social media?
The result of this curation technique, where you add your opinion with a link to the original article or video, is that you drive traffic to your site rather than someone else's. Not only that, but it gives you more opportunity to start a conversation with your readers about the content you're sharing.
There are several different ways to go about curating interesting content in a blog post. You can curate images, other people's research, or other people's ideas. You can even create a regular recurring curation column that people will begin to look forward to each new publication in the series.
You'll be linking back to all the original places where you found the curated items and giving the original publisher credit. You're also adding your own editorial comments, opinions, and information throughout the curated article, making this a valuable piece of content for your readers. Then share this curated piece out there on social media and traffic comes back to you.
3. Audio and Video
Podcasting and video blogs are more popular than ever and they're perfect for those who don't care for a lot of writing. With this type of content, all that's required is you, sharing your thoughts. You don't have to do anything as involved or complex as interviews, and you certainly don't have to hire a studio for a day to record a series of "professional" videos.
You can create podcasts and video blogs with nothing more than your smartphone or laptop with its built-in camera or a headset and an audio recorder. Just fire up the camera and share your thoughts. Don't worry about perfection, your visitors will love a chance to see and hear the real you!
You can take that audio or video content and create transcripts for even more content. There are several free tools available and many more offer a paid version.
I've used otter.ai which has a free version as well as a paid upgrade. I've also used happyscribe.com and descript.com. With any of these transcription apps, you'll need to edit the result to make it more reader-friendly.
4. Use Done For You Content
Done-for-you content, also known as private label rights content (PLR) is content written by a writer or marketer and sold to customers along with a license spelling out the terms for which it can be used. With PLR, you can use the content as your own and post it online as if you wrote it.
It's best practice to do some editing and customizing when using this done-for-you content. That makes it truly unique. Here is my 4-step process to easily customize this type of content. It saves so much time when you start with PLR content instead of a blank page.
If you're wondering where to find quality PLR content, check out the recommendations on my Resources page. These sources have all been checked out by me and passed my high standards for quality.
5. Repurpose Existing Content
If you already have a lot of content created on your site or stored on your computer, you can repurpose this existing content into new content. Combine previous blog posts into a new one. Use information sent out in a newsletter article and re-cycle it into a new blog post or vice versa. Do you have audio or video content sitting on your hard drive? Think about your YouTube or Vimeo channels, or past podcast interviews that you've forgotten about. Repurpose any of that existing content into blog articles or podcast content and save yourself some time making something from scratch.
Summary
Creating content can seem like an impossible task when you don't consider yourself a wordsmith. Or maybe you're simply overwhelmed with everything else you need to do for your business so you've put your blog on the shelf. Rather than giving up and allowing your blog to feel neglected, think outside the box for some ways to save time, yet create content your readers will enjoy and happily share. These 5 ideas will hopefully give you a jumpstart and allow you to create more content and save time while you're doing it.
Which one of these ideas sounds the most exciting for you to quickly and easily get started publishing some new content? Let me know in the comments below!